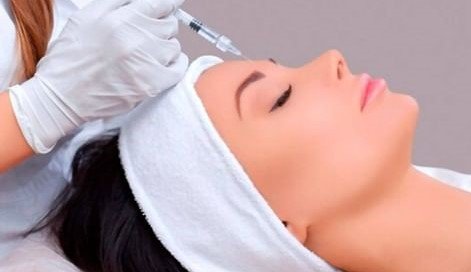 Toskani TKN HA3 Skin Booster Injections
TOSKANI TKN HA3 is the latest addition to our portfolio of products with hyaluronic acid. This biorevitaliser is an injectable syringe gel composed of 9mg/ml of non-crosslinked hyaluronic acid. It has the highest molecular weight in the market (3.000 kDa), that is, the most similar to the skin physiological one. Having a larger molecule, its degradation is slower and its effects last longer providing a filler effect. TKN HA 3 can be used on the face, neck and décolletage to prevent and correct signs of ageing.
How Does TKN HA3 Work ?
Hyaluronic acid is a naturally occurring substance produced in our body, found in skin, joints and other connective tissue. Its role is to retain moisture in the body and aid collagen production. It can hold 1000 times its weight in water which makes it ideal for binding moisture in the skin. With age hyaluronic acid production slows and the skin looks duller and dehydrated, with fine lines and wrinkles forming.
As a stabilised product TKN HA3 last in the skin around 56 days.  During this time the stimulation of 4 different types of collagen and elastin takes place by slow release of HA. It contains one of the highest concentrations of stabilised hyaluronic acid on the market. Because it is thermally bonded and not chemically bonded it acts as a hydrator not a filler. It is injected just underneath the surface of the skin where it disperses quickly and reacts with your own tissue to instantly boost hydration. Over the next four weeks phase two kicks in as it goes to work boosting elastin and collagen production. This effectively remodels the skin and giving it a plumper, smoother and firmer appearance.
Due to its gel like consistency TKN HA3 distributes smoothly and evenly without the formation of any lumps – a potential risk with traditional fillers. This means it can be used on areas which are difficult to treat with traditional fillers, such as the neck, forehead and décolleté.
Price Range
| | |
| --- | --- |
| Single treatment | £200 |
| Course of 2 | £350 |
| Course of 3 | £425 |